Torus v.24 Prepares for Fall Semester with the Largest Torus Release Ever
The new release brings a host of new capabilities and UI updates

This codebase for this release is available on the

CMU Simon Initiative Github repository

The release is already live for Open Learning Initiative users
Torus v.24 was released and made available to Open Learning Initiative users on July 20, 2024.  This new release brings a large expansion of capabilities to the platform; try them out at https://proton.oli.cmu.edu.  
Priorities for this release are necessary functionality for the Equity-Centered Courseware Pilot this Fall and continued progress on migration from the Legacy OLI platform. The release also addresses some key user requests, and has added a few new features and capabilities.
Key New Features in V.24
New Onboarding Tools
Torus now provides support for onboarding wizards that can help guide students and instructors through the initial process of joining and setting up a course. The capabilities for these wizards will continue to expand, but currently provide some support for course project-specific content and workflow. Students are notified what to expect and can be guided through mandatory initial surveys. Instructors are walked through the process of creating a new section, specifying information about meeting times and class modalities that will form the basis for future supporting features.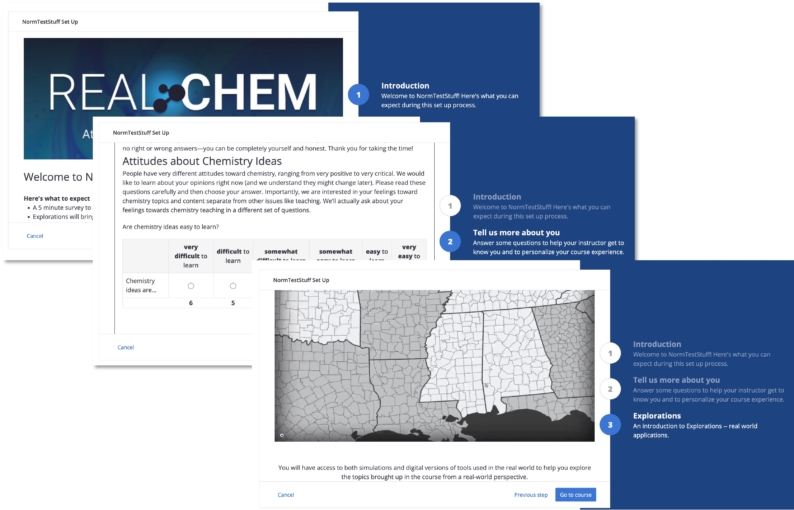 Expanded Portals
We've continued work on the Student and Instructor portal pages, with new waypointing and recommendations based on schedules and past work. Students are given specific pointers for what to work on next, based on a combination of suggested completion dates and firm deadlines. Instructors will see a dramatic expansion in Torus's reporting capabilities, integrating student information, scores, and learning estimates with adaptive suggestions for activities and other ways to support students.
There's now greater visibility and control over of courseware changes, with faculty previewing and accept updates and improvements to the content. As part of the reporting interface, the system also provides standard options for downloading almost any tabular view of class data, better supporting offline review and analysis.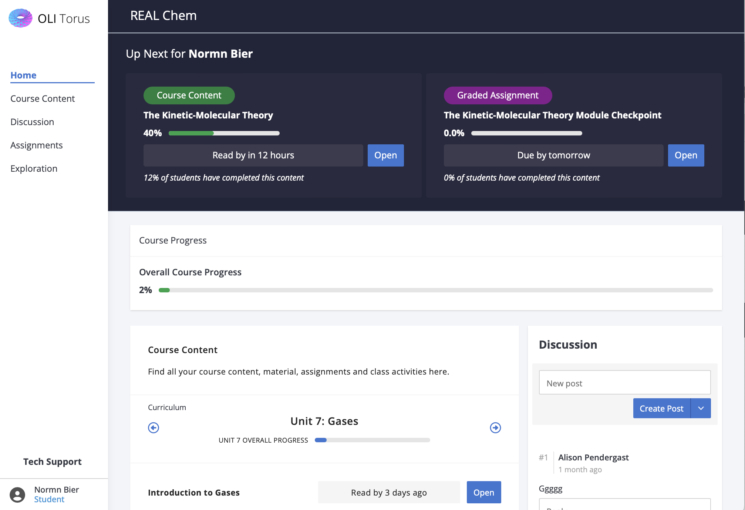 Assessment Settings and Scheduling
Instructors will find a broad array of new capabilities for managing, scheduling, and gating their assessments. The new Assessment Settings interface matches and expands the Legacy system's assessment controls, with the ability to set number of attempts, scoring models, deadlines, delivery modes, and other options that can be applied in bulk to individual activities or even to specific students.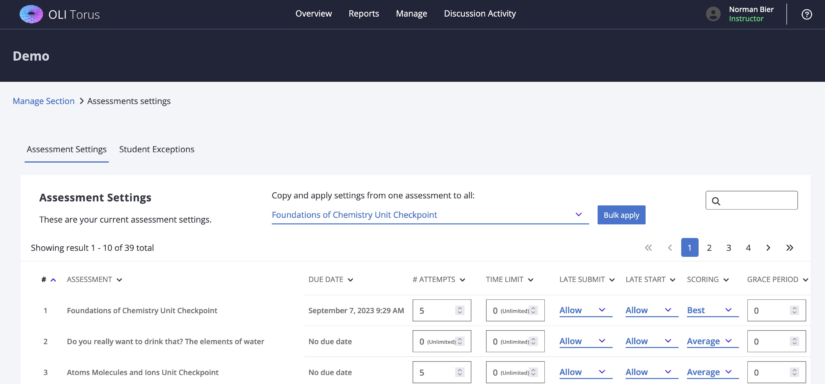 Authoring
Authors will find an assortment of new features and improvements. More robust capabilities for ingesting and exporting projects was an important part of this release. Survey capabilities have also been expanded, with new question types and the ability to designate surveys as "required" at onboarding, enabling improved student supports and research. A variety of new activity and content types have also been expanded, bringing us closer to parity with the Legacy system.  Two notable new capabilities include:
Collaborative Activities
This release expands on support for collaborative activities, allowing authors to specify page- and course-level discussions, which can support peer and instructor communications. Current capabilities also allow authors and instructors to specify requirements for participation. The per-page discussions are a foundation which will evolve to support more full-featured social annotation. These elements will also be expanded to allow for in-page collaborative assessment activities.
Flowchart-based Adaptive Authoring
This new approach to course authoring fills a large gap between core and adaptive authoring, providing templates and an easy-to-use flowchart-based approach that can allow novice authors to develop more sophisticated adaptive learning experiences, without the expertise required for the full Adaptive Authoring tools.  
What's next? V.25 and Beyond
The v.25 release is scheduled for October 5, 2023, with some new capabilities which will be usable during the Fall 2023 semester. Key features for v.25 include:
Improved product management, with ability to archive older products

Expanded Assessment Settings

Expansion of the Revision History tool to track more aspects of course project development

Improved Project Export capabilities

Improved support and instructor capabilities, including search capability, role visibility, and the ability to transfer students (with data) between sections

Markdown editing support

Expanded copy-and-past for rich text into the authoring environment

Refined analytics and data access

UI improvements, including tooltips in the instructor reporting framework
Looking further ahead, we've identified likely features for the remainder of 2023, particularly the v.26 release scheduled for December 21, 2023. We'll be discussing these plans and soliciting input during upcoming Torus community meetings. Join us at the https://oli.cmu.edu/oli-communities/torus-community/ to learn more.
---
Previously: Torus V.23 Update Brings New Features, Lays Groundwork for More Improvements